"Your concert at San Pedro Chapel was a total triumph.
Everyone was delighted with your talent, your selections,
and your outstanding guest artists. You've made many more fans."

– Lynn Ratener, Old Fort Lowell Neighborhood Association
R
ebecca Foreman is equally comfortable appearing on stage as a harp soloist or as an orchestral musician. She currently serves as principal harpist with the Tucson Pops Orchestra and also works as a substitute musician with the Tucson and Phoenix Symphony Orchestras. In l996 she had the unique opportunity to serve as principal harpist for The Arizona Opera production of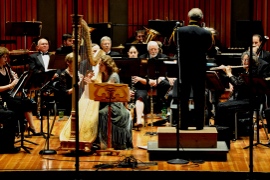 Wagner's
Der Ring des Nibelungen
in Flagstaff, leading a section of six harpists. She has also acted as principal harpist with the Flagstaff Symphony Orchestra, the Tucson Chamber Orchestra, the American Youth Symphony, and the YMF Debut Orchestra.
A
s a Teaching Artist with the Arizona Commission on the Arts, Rebecca has performed throughout Arizona, both as a soloist and as a member of "Reverie," the flute/harp duo which she formed in 1994. Organizations which have presented Rebecca in recital include the J. Paul Getty Museum, Whittier College, Glendale Public Library, Old Fort Lowell Neighborhood Association, Unitarian Universalist Church, Resurrection Lutheran Church, and the West Valley Art Museum. She has also appeared as concerto soloist with many regional orchestras including the Arizona Symphonic Winds, the Catalina Chamber Orchestra, and the Tucson Pops Orchestra. Her lively and entertaining programs including familiar works such as
Clair de Lune
,
Malagueña
, and Gershwin medleys are a favorite with local retirement communities.